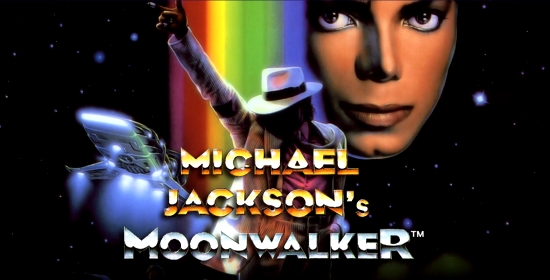 Moonwalker is a weird, ambitious project by Michael Jackson. Released in 1988, the video is a collection of short segments all featuring Jackson. There's no continuous narrative; just a lot of weirdness. The singer wanted the movie to be screened in theaters, but the budget fell through and was released straight to video instead. A video game of the same name was also released as a tie-in, but that's for another day. To celebrate Jackson's 59th birthday I wanted to look back on this movie, which is still one of my favorites.
It used to fill up many bored afternoons when I was a kid and it's still something I love watching today. Whenever I need a good laugh or just want to smile, I put this on and get lost in Jackson's weird, wonderful world for a little bit. It's full of flaws and portions of it are ridiculous as hell, but it's charming and a lot of fun. It's hard to imagine this doing well in theaters since there really isn't a plot. It's more like a collection of segments all involving Jackson. Still, it's an interesting project that reminds us what a visionary he was.
The film starts with a powerful performance of "Man in the Mirror" making you think that it's a concert film. Then it goes straight into the best part, the retrospective. Following Jackson from the Jackson 5 all the way up to Bad, it's a fun, creative look back at the music and career defining moments. This part has always been my favorite for the popping effects, different animation styles, and the great energy. Highlights include a Claymation Jackson 5 singing "ABC," a stop-motion robot joining Jackson on "Dancing Machine," a mini "Human Nature" video, and a creepy ode to "Ben." Throughout, we also see related memorabilia, award ceremonies, and magazine covers showing what a big deal the singer was at his peak.
Once we reach the Bad era, we see condensed versions of "The Way You Make Me Feel" and "Dirty Diana" before getting to "Badder." The strange segment features a bunch of kids recreating the "Bad" video with scary accuracy. This has always been another one of my favorite parts. I still love separating the good kids from those who just don't have it (looking at you midriff kid). Did we need kids to recreate this video? No, but it's charming and cute. Try not cracking up at the ten-year old with a five o'clock shadow.
Once mini-Jackson is done with his dance off, adult Jackson returns and proceeds to be chased down by weird, unsettling big headed people. Again, a very weird part of the film, but it's a blast to watch. Even Jackson looks like he's having a good time with a big smile rarely leaving his face. While on the run, he runs into a talking Statue of Liberty, chubby twin bikers who he's clearly disgusted by, Stephen Spielberg losing his shorts, and a bunch of screaming fans. It's a creative romp taking the piss out of Hollywood and obsessive fandom.
So how does Jackson make it out of this situation? With the help of his friend, Spike. He suits up as a Jackson-esque bunny and leads into the "Speed Demon" video. This is where the Claymation shines. Spike turns into different celebrities of the era, like Pee Wee, Tina Turner, and Sylvester Stallone. And there are clever jokes throughout the segment, like a stop at "Frank in a Box" named after his manager Frank DiLeo and even Jack Nicholson in the car chasing him. The video ends with a memorable dance off between Spike and Jackson. Yes, the whole thing is weird, but it's imaginative. You get so sucked into the world you don't even question how a bunny costume came to life. It perfectly shows off the child-like wonder Jackson often flaunted throughout his life.
After an interlude featuring the stop-motion "Leave Me Alone" video, we get to the extended "Smooth Criminal" segment. Sigh. Even as a kid I never really liked this part. Though the segment does look pretty slick, it's confusing, poorly acted, and makes no sense. It follows Jackson and a group of homeless kids as they go up against Mr. Big (Joe Pesci) because Jackson found his drug den…or something. It's not really clear why Mr. Big is trying to kill him. Also, it's never clear what kind of world we're in. Why are the kids homeless? Where are all the other adults? Why exactly does Mr. Big want to get kids high? And we can't ignore that Jackson is somehow magical in this world. During the video, he turns into a car, a rocket ship, and a giant fucking robot. And the kids never find this strange. They go along with it as if it's not weird for a man to turn into a fucking car.
They're also never sure how to feel about Jackson. At one point he's their friend and are concerned with finding him. When Katie finds him and points it out the other kids respond "so?" When he turns into a robot they act a little surprised but never bother to bring it up again. And when he flies over them as the rocket ship at the end, they say "Bye Michael" as if he just got on a bus. And let's not forget how Club 30 is an abandoned, dusty place when the kids find it. But Jackson walks in and it's a hopping bar from the 20s, which he proceeds to start trouble in. What exactly is going on here?
After defeating Mr. Big and his faceless soldiers, Jackson comes back after Katie makes a wish and whisks the kids away to a precarious backstage area with sparking plugs never explaining to the kids what the fuck just happened. Suddenly, he's on stage performing "Come Together" in front of John Lennon's kid. What is even happening? No bothers to pull him aside and say "Michael, what are you exactly?" The kids just take it as is and we're supposed to say "this is fine."
Honestly, it was hard to sit through this segment again. The entire time I wanted to skip straight to "Smooth Criminal" and turn off the rest. While I was willing to never question anything in the first segments, I couldn't suspend my disbelief here. Perhaps if there was a flowing story to follow it wouldn't be so bad. But there is little explanation for anything we see. The "Smooth Criminal" video itself is great, minus the weird breakdown, but the "story" around it is mind boggling. Jackson isn't the worst actor, but he's by no means amazing. The highlight is when he turns into the ultimate transformer. The special effects haven't aged all that well, but there's something about it that's still unsettling, especially when he starts shooting crotch rockets. Otherwise, it plays out like bad drug trip starring the King of Pop.
Moonwalker is a unique, yet weird experience tailor made for Jackson fans. For casual fans or anyone who doesn't like him, it looks like a vain, unintelligible film. It's a long ad for the Bad album, fans will find it a fun trek through Jackson's career and his imagination. While the first half of the movie shows off the creative flair the singer had videos, even though it all falls apart with the bigger "story." It makes sense for Jackson to come up with something so bonkers because it sounds like something a ten-year-old would dream up. This is a movie you don't take seriously. You're there to enjoy the cool visuals, Jackson's dancing, and the kick ass music. If you take it for what it is, you'll find an anthology that's a blast to watch especially with friends.