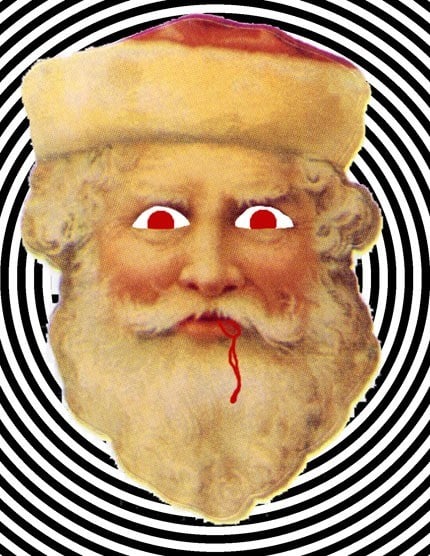 Holidays have the potential to bring out the best and worst in us. They can also bring out the weird in us. Rather than singing about Santa Claus, spending time with the family, and frosty the snowman, these songs dive into weird territory you wouldn't expect for Christmas. So if you've been listening to "All I Want for Christmas is You" since October and are ready to gouge your eardrums, check out these weird, creepy, and hilarious Christmas songs.
"Dear Santa (Bring Me a Man This Christmas)" – The Weather Girls
The holidays can be a real drag without someone to cuddle up to as The Weather Girls know. There's only one thing they have on their list: a man. The girls kick things on a sentimental note talking about having someone to wrap your arms around. But things kick into high gear when the disco music starts and Izora Armstead sings "Bring me a man!" The girls are straight to the point on this funky song and don't waste time being coy. They even get downright dirty by asking Santa to leave a man under the tree "dim the lights down low/and let it snow." It's a weird song to get you in the spirit, but it's a bonafide jam. Though you may not want to play this one around the family.
"Christmas with Satan" – James Chance
This is what a Christmas song would sound like in Hell, which is probably the point. While Chance wails about why partying with the devil during the holiday is the best, demented renditions of "Santa Claus is Coming to Town," "Jingle Bells," and other carols screech along with him. The entire thing is a freaking nightmare that gets worse and worse. It sounds like something that would be played at a creepy clown party. Sorry for that image. The uncut ten-minute version is even worse with Chance painfully screaming and slamming the piano keys like he's five years old. If this is what Christmas sounds like with Satan then count me out.
"Scary Fucked Up Christmas" – Garfunkel and Oates
For some Christmas is a wonderful time to spend with family. For others, it's a terrible time to spend with family. So what's the solution? Toke up. Garfunkel and Oates sing about getting high so Christmas won't seem so bad. But of course, things get worse when you start tripping balls. Now, you're worried about the snowman at your door, noticing shoes on meatloaf, and trying to bat away incestuous thoughts when you see your cousin. The duo's quirky lyrics and mention of other famous December 25 birthdays (Happy birthday Karl Rove) make this a funny, but odd holiday song. And remember, no matter if you're high or not Christmas is always scary and fucked up.
"Santa Claus Has Got the AIDS" – Tiny Tim
Want to instantly kill your holiday spirit? Then listen to this bizarre Christmas song from Tiny Tim. Yes, it's as bad as the title makes it sound. Tiny Tim sings about Santa missing the holiday because of his condition. No more ho, ho, ho-ing, no more spreading Christmas cheer, no more sleigh rides. If that's not enough to scar your then images of the nurses and the reindeer crying about Santa surely will. The whole thing is fucked up especially when you consider how AIDS was viewed during the 80s. According to Tiny Tim, the song is actually about the diet supplement Ayds and was written before Rock Hudson's death from AIDS, becoming the first major celebrity to die from the illness. With lyrics mentioning hospital beds and sad nurses, it seems unlikely. It seems like he just wanted to avoid any backlash.
"Christmas Rhapsody" – Pledge Drive
Do you love Queen's "Bohemian Rhapsody," but wish it had more Christmas flair? Pledge Drive has you covered with this, weird, yet impressive tribute to Queen. The iconic song is entirely rewritten with references to Santa Claus, flying reindeer, and singing carols. It follows the structure and flow of the Queen classic perfectly. While it's a little hokey, it's actually pretty good. The references don't feel clunky or forced and it ends up being as catchy as the original. The highlight is the opera portion with the iconic line "Bismillah! No, we will not let you go/(Let him go!)" replaced with "Kris Kringle! No! Do not give him coal! Give him coal!" It's a weird, yet, delightful treat for Queen fans. Good luck trying not to sing the actual lyrics though.
"Disco Christmas" – Universal Robot Band
In the 70s disco was like a bad cough you could never get rid of. The genre proved to be so popular, artists like Aretha Franklin and KISS even got on board. Even Christmas songs couldn't escape disco as this 1977 gem shows. Sounding like "The Hustle" mixed with "Jingle Bells," most of the "lyrics" is just Santa Claus and Rudolph trading insults with each other. Santa calls Rudolph ugly and in response, he calls Santa a "jive turkey." They even spend a full verse arguing over each other while the background singers cheerily sing about "hustling around the tree."  It feels like a weird parody song with references to 70s clichés like platform boots and phrases like "slap me five." And this is only one of several disco themed Christmas songs. There are plenty of albums filled with disco versions of Christmas classics with the worst of them all being curated by Irwin, the Disco Duck. This must be Christmas in hell.
"R2-D2 We Wish You a Merry Christmas" – Christmas in the Stars
This song is so bad on so many levels. You have the interludes with R2-D2 chirping and C3PO being a neurotic fuck. Then there are children saying how much they love R2-D2 and how they want him to spend Christmas with him sounding weirdly ominous the whole time. But the weirdest thing about this song is that it's Jon Bon Jovi's first performance. Yes, before he fronted your mom's favorite rock band, he sang about having a magical Christmas with an android. There are so many questions when listening to this song: why are they singing like R2-D2 is badly injured? Is R2-D2 the equivalent of Santa Claus in space? Why the fuck does Bon Jovi sound like one of The Monkees? And imagine there are eight more terrible songs filled with clunky references to Star Wars on the album, including the equally awful "What Can You Get a Wookiee for Christmas (When He Already Owns a Comb?)". You'd think Star Wars would stay far away from Christmas after the infamous wreck Christmas special only two years prior.
"Santa Dog" – The Residents
If this song is anything to go by then Christmas with The Residents is terrifying. The short song has Randy Rose repeating "Santa Dog's a Jesus Fetus" and "A fleeting and a sleeting scene of snowness and of sleeves" while the rest of the members shout "bing, bing bing, bong, bong, bong." Things get bleak with the notion of no presents and no presence in the future. Apparently, the song is about a wiener dog in Santa suit. Mostly, it's an excuse to point out the "Santa/satan" anagram and freak everyone out. The ridiculous lyrics, jaunty music, and creepy singing make it more appropriate for a Tim Burton film than a holiday party.
"Homo Christmas" – Pansy Division
Similar to The Weather Girls, Pansy Division just wants a man for Christmas. This pop-punk tune celebrates being gay at Christmas and lists all the things they want, which include a nice hard cock and lots of boning. Frontman Jon Ginoli gleefully sings about how he wants to spend the holiday, which involves "Licking nipples / Licking nuts / Putting candy canes / Up each other's butts." It's a campy song that's ridiculous and funny, but it's also a form of relief. According to Ginoli he wrote the song as a sort of therapy because  "Christmas can be stressful, especially since it's a 'family' time, and I wrote [the song] thinking that it would give certain people hope on a day that sometimes sucks, especially when
the person you really want to be with doesn't fit into certain definitions of family." So, in a way, the song is kind of heartfelt, if you look past all the licking of body parts.
"Merry Christmas Santa Claus" – Max Headroom
You know when a fad has gone too far when they invade the music world. And in 1986, Max Headroom did that with this Christmas single. "Why?" is what you'll keep asking yourself as you listen to Max glitch and stutter about loving Santa perhaps a bit too much. Max's love for Santa gets creepy as he talks about loving Santa from "the top of your Christmas stocking/to the bottom of your Christmas bottom." He even talks about bringing a big sack of Santa love. Best to leave this song alone and forget this song ever happened.
"Santa Claus is Watching You" – Ray Stevens
The older you get the more you realize Santa is kind of a creep. He sees when you're sleeping and he knows when you're awake. As a kid, this was just part of Santa's magic, but it sounds more nefarious as an adult. This is the angle Ray Stevens takes for this comedic tune. Stevens warns his lover that she better stay faithful and treat him right because Santa is always watching. As the song goes on, his behavior gets downright obsessive. Phones are being tapped, Rudolph has a constant eye on the house, and Santa's the head of the CIA. Santa is a looming threat here and it's pretty offputting. Stevens' slurring vocals and manic screams of "He's everywhere! He's everywhere!" will surely make you laugh, but you'll be looking over your shoulder while you're doing it.
"Deck My Balls" – Afroman
How many other holiday songs do you know that open with the line "Lick my balls with lots of salvia/fa la la la/la la la la?" This is only one of the many obscene gems you get from this song. You won't find any mention of holiday cheer, spending time with the family, or giving back on this song. Instead, talks about baby gangstas, selling weed, getting over the on the system, flunking classes, and hooking up with some hot chicks. It's what you expect from an Afroman song. What's unexpected is not only was he so popular that he got his own Christmas album, but that he released a second one two years later.
"Christmas Unicorn" – Sufjan Stevens
What is this song even? Is he being extremely philosophical or just stringing together a bunch of nonsense? It probably doesn't matter because we're all the Christmas Unicorn after all.
There are a lot more weird Christmas songs out there. Which ones did I miss? Let me know in the comments!