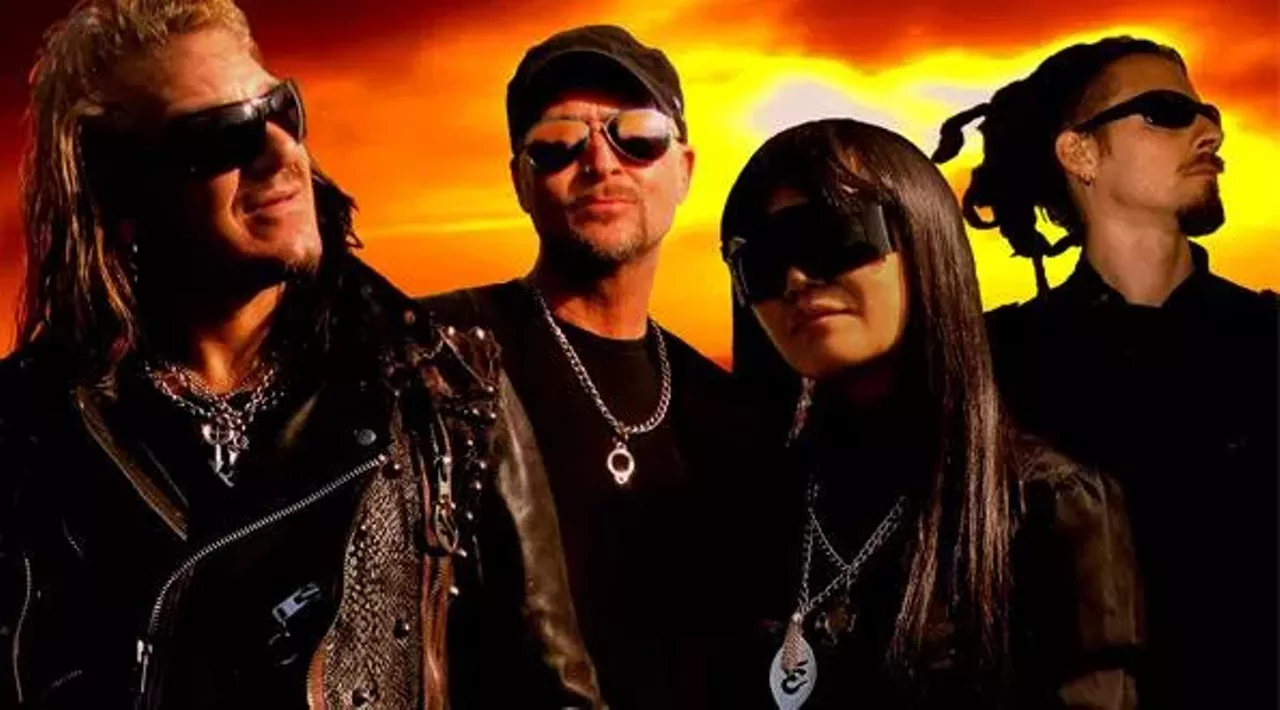 Originally posted on Examiner.com
2012
No matter who I'm talking to, I always get nervous before an interview. What if they hate my questions? Will they think I'm a dumb fan? What if they don't really want to talk to me? All this was running through my head as I sat down to chat with Thrill Kill Kult's Groovie Mann. But my fears were soon put to rest as soon as he picked up the phone. Groovie Mann was bursting with energy and more than eager to chat as if waiting for the chance to recount the band's history to anyone who would listen. We ended up talking for two hours with him mostly going off on tangents sharing wild stories of the band on tour. One thing I distinctly remember is him complaining how hot it was where he was and apologizing for getting distracted and talking about other things. Though I'm not necessarily a fan of the written interview (I had to cut out so much for length) it's still one of the most fun interviews I conducted. Groovie Mann was nothing but friendly and happily answered my burning questions related to his appearence in my favorite movie The Crow. 
This is another interview that disappeared when Examiner went under, but I have such fond memories of the interview I wanted to share it for anyone interested in seeing what the band was up to in 2012. Enjoy!
My Life with the Thrill Kill Kult have been around since the late 80's blazing the underground scene with their mix of sleazy disco and industrial rock. This year marks their 25th anniversary and to celebrate they're heading back on the road performing fan favorites across America, including their hometown Chicago in October. I got a chance to talk to frontman and founding member Groovie Mann (Frankie Nardiello) about the new tour, wild show memories, and working on the new album.
How the idea for this tour come about?
Groovie Man: It's our 25th year of being a band, so we decided to see our fans and friends and put on a show. The tour is called Back From Beyond, which is taken from one of our tracks [from the Ryko reissue of I See Good Spirits, I See Bad Spirits]. It's not a greatest hits show or anything like that. It's fan choices and special mixes, more about show aspect and how we put it together.
When you first started the band in the late '80s did you think you would still be making music with them 25 years later?
GM: Not really. (Laughs) It's crazy. I never wanted to be in a band. I was just asked by these people in a club to try out for this band. I'm surprised it's lasted this long. But it's the loyalty of the fans that keep us going and we see no end to it.
I know that the band name came from an independent film you were doing, but money issues kept you from finishing it. Do you think you'll ever go back and release the film now?
GM: We would rather start fresh. We talked about it a few times, but we've been so involved with other things. Maybe we'll incorporate the film with the next album.
When should we expect that?
GM: Next year most likely. We've been planning it for a spring release. Maybe we'll get a chance to play Australia and Japan. The list isn't long of what we want to do (laughs). We just got the Bomb Gang Girlz album done and we'll have it on the road to sell. We also have a new girl Beki Colada singing back up for us and is the new voice of the Bomb Gang Girlz.
Is film something you would ever explore further?
GM: I don't know. I would like to do experimental films, but no big goals in mind. I wouldn't mind being in films, but there are so many things we want to do.
How do you feel about your songs being used in TV shows and independent films?
GM: When we were developing into who were are, our manager got movie stuff for us and one day he comes up and says the Flintstones are doing a movie and want to use one of your songs. And I was like that cartoon? Why? Ew! Then he says well it's $30,000 and I'm like okay (laughs). That's how I got over my artistic integrity. You can't even get that price now. Now, it's like I'll give you $500 when you expect $20,000 or $40,000. If you sell a million downloads on iTunes you get a dollar. You want to be able to survive on music, we all need to do something to survive. But it's not about money, it's not about being a rockstar a-hole. It's been an exciting journey and we've met some great people along the way, like Brian Warner [Marilyn Manson]. I remember signing a record for him and then we turn around to open for his tour. He's a really sweet guy and things like that make me feel good. The Scissor Sisters are another band that cited Sexplosion! as a huge inspiration and it's always nice to hear things like that.
You guys are infamous for having a new sound for each record. How do you decide on a sound? Do you sit down and discuss it or does it come up in songwriting?
GM: Buzz [McCoy] will usually have something and we'll jam on that and improvise. We'll get some sort of dialogue out and have a starting point. The sound really depends on where we're at in our lives. Every experience is different.
What are some of the most memorable tour stories?
GM: Some of the performance artists we had during the Sexplosion tour. It was crazy, they were doing some inappropriate things that obviously shocked the audience because I could see the expressions on their faces. It was so bad that the cops were trying to get us arrested for indecent behavior. But once we told them what was going on they let us off the hook. There was one time where were hit by a truck. We spun across five lanes and this couch fell out of the truck and it was just sitting on the road. So lots of crazy stuff, not necessarily fun or pleasant, but definitely crazy.
You guys started your own label Sleezebox Records in 2001. Now that you have your own label do you think you'll be taking a more behind the scenes route, like producing albums and such?
GM: The label has been our outlet for a while, just a way for us to release our stuff. Unless someone comes along that we really believe in and like we're not looking to extend our label too much. I mean everybody can be their own label now. You just need to know how to use Protools. Now there's this surge of everybody's an artist and it's kind of frustrating. Today you can put up a song online and have the reaction instantly, whereas when we did it we would have to wait so long to hear anything, but it's still really exciting.
Out of all the albums Thrill Kill Kult has released, which one is your favorite?
GM: I would have to say the first one, I See Good Spirits, I See Bad Spirits. Probably because it was the beginning of something fresh. I won't ever forget something like "Kooler than Jesus" either, but this album begins the story of Thrill Kill Kult and the first is always the best!
A lot of artists now talk about how they're done with music and are going to retire only to come back five years later. Do you think Thrill Kill Kult will ever retire from music?
GM: I don't know, it's so hard to say. It's something I don't want to think about. Music is who I am and I want to live it out and see how far we can take it. It's about the people who have been with you for the journey and it's exciting going to the next phase, the next chapter.
My Life With the Thrill Kill Kult will start their Fall tour Back From Beyond next month in San Francisco. They will stop by Chicago on October 13 at the Bottom Lounge, so make sure you buy your tickets for a wild show! They will also be joined by Left Spine Down for the tour. To follow TKK on tour and to keep up with the latest news check out their official site and why don't you buy some of their music while you're there.