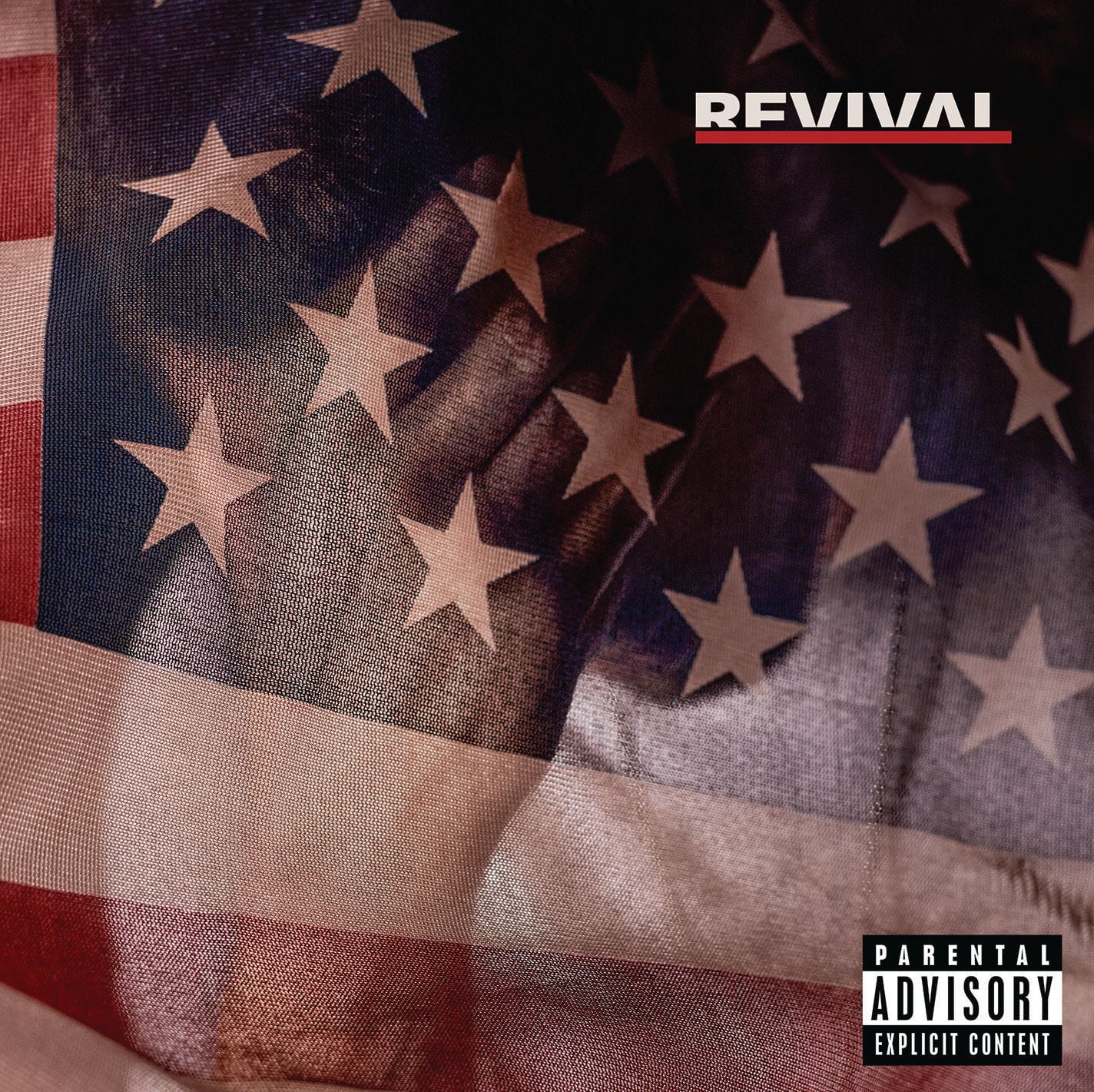 Release Year: 2017
Rating: 6/10
2017 was a crazy year for several different reasons. Everyone from celebrities to your neighbor commented on the tense political landscape. But I most wanted to hear from Eminem, a person who wouldn't sugarcoat his feelings. Revival finally released and….sigh. I really wanted to like this album, especially since his freestyle "The Storm" was so tight and powerful. But this is just a mess. I was flat out confused when I first listened to it. I didn't know how to feel, but at this point, I can say I just don't like it.
This album has so much potential, but when you're listening to it you can't help but think "why did he do that?" So many of the songs start off strong or have a great verse, but veer off in strange directions. We first heard this on the misguided "Untouchable." His lyrics about racism in America is honest and he's saying things we all need to hear. But you can't take it seriously with the weird hook of "White boy, white boy/You're a Rockstar/my momma talkin' to me/tryna tell me how to live" that that sounds like he's mocking Fred Durst.
"Framed" has a similar problem. The hard-hitting music and features Em spitting fire gets you amped up for something awesome. Then the goofy ass hook comes on featuring Eminem repeating the title in a stupid voice."Believe" isn't a bad track and has some strong moments, but it's hard to get over the generic music and his weird flow. It sounds like every other rap song on the radio right now. Seeing as he's often considered an innovator of rap it's unlike him to turn to what's trending to try and make a hit. The whole thing catches you off guard making you think you're listening to someone else entirely. It's not a terrible song, but it's a bit unexpected for the rapper.
The biggest problem with the album is how forgettable the songs are. It's hard to remember most of the songs once it's over. They're not as hard-hitting, fun, or interesting as his part material. "Walk On Water" is boring, while songs like "Heat" and "Nowhere Fast" barely even register. Not to mention the much talked about collaborators don't really add anything. Pink takes over most of "Need Me" making it more of her song. "River" featuring Ed Sheeran is okay at best and "Tragic Endings" with Skylar Grey sounds too similar to their previous collaborations. And how many more songs do we need with Grey? It makes you wish Eminem would stop rehashing the formula of teaming up with a female pop singer. It's not interesting anymore.
And then there's the awful samples. On past albums, Em has used tracks like "Crazy On You" and "Time of the Season" with surprising success. He tries to sample classic rock songs again here and it's a mess. What the hell is even going on with "Remind Me?" He butchers "I Love Rock N Roll" and turns it into some Frankenstein hook for a weak ass song about women. Things don't get any better with "In Your Head" which samples "Zombie" by The Cranberries. The way the iconic hook is stuffed into the song makes it unbearable. It's just not a good fit at all. The sample of "The Rose" in "Arose" is lazy and corny. These samples don't add anything to the songs and make your roll your eyes with how they're misused.
If you can make it past the confusing lyrics, awful music, and filler tracks there are some decent songs buried under all the trash. Closing tracks "Castle" and "Arose" finds the rapper reflecting back on his height of fame and his eventual relapse. He speaks from his deathbed and even goes as far as say goodbye to his family before being saved at the hospital. It's actually a harrowing and disturbing experience to hear him speak as if he's already dead. Another thoughtful track is "Bad Husband" where he apologizes to ex-wife Kim. Considering he's murdered her (twice) in song, this was a long time coming and shows he's matured and mellowed out over the years. Though the hook of "great dad/bad husband" is pretty cringy. Maybe he's patting himself on the back a bit too much there.
Another strong track is "Offended." It's classic Eminem, slashing through his haters and laying down some impressive flow. The thing that kills this song is the tonal shift during the hook where it sounds like a grade school taunt. "Chloraseptic" is another stand out track. Eminem's flow and rhythm is on point and the intense music gets lodged in your head. The lyrics are pretty weak and at times ridiculous ("'Cause I conned her into/Rippin' the condom in two/Dick is a bargainin' tool/Now I'm gettin' blew like Klonopins, Rude Jude"). While it's not his best song or even his best rap, it manages to be one of the few memorable tracks from the album. And the recent remix featuring 2 Chainz is even better. The way he channels his anger to spitfire and his haters makes it better than most of the material on the LP.
Sadly, Revival is a huge disappointment that had so much potential. So many of the songs have the right sentiment or the right idea, but at some point, it falls apart. I get Eminem wanted to try something new. It just sucks that most of it doesn't work. A lot of the lyrics aren't as clever or hard-hitting as we expect from him, a lot of the samples are misused, and the music comes off as generic. Rather than using the events of 2017 as fuel for some great commentary, he revisits well-worn territory and it's boring. Not everything on the album is terrible, but there's not enough memorable material to make you want to listen to it again. Hopefully, this is just a misstep and Em will be delivering fiery, exciting songs on his next release.